Dana S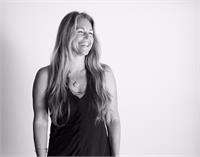 My daughter and I moved to LA from Indiana the summer of 2014. It was a very difficult transition for me. Hot 8 Yoga helped me through this transition... I immediately felt the connection with the practice, the staff, the instructors, and the others who practiced with me.
As I showed up on my mat for class week after week, I was deepening my connection with myself and those around me. Friendships were created. I brought the ebb and flow of life onto my mat and left with awareness, insight, wisdom, and clarity... Most days! I had a taste of yoga and the potential it carries to impact my being and those around me. So much so that I became an instructor to share the gift of yoga with others and to love and encourage them through their practice.
Dana S instructs the following:
This slow-moving class targets connective tissue through seated and lying postures held for long periods of time with the use of blocks and straps. Yin compliments the more active classes offered at Hot 8 Yoga by increasing circulation in the joints and improving flexibility. This practice is perfect for all levels and those recovering from injury.




New to meditation? This is the perfect place to start. Become more relaxed, efficient, and compassionate in just 15 minutes. This silent practice is conducted in a group setting for a more powerful experience of deepening your collective awareness.