Judy L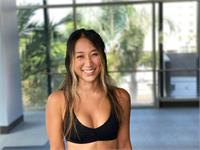 Judy started her yoga practice in 2010 as a way to stretch and complement her fitness routines. It wasn't until in 2013, when she first took her hot yoga class, that yoga became more than a just a "workout". She fell in love with how the heat allowed her to meditate deeper into the poses and silence her lower mind - something she never experienced elsewhere. Since then, she's cultivated a desire to delve deeper into yoga, which ultimately led her to complete the 200 YTT certification. She loves leading an energetic and challenging class. She invites you to come to her class with no expectations - you might surprise yourself as to what your body can achieve!
Her second passion besides yoga is being a proud dog parent. Currently, she lives by Mick Jagger's quote: "anything worth doing is worth over doing": because life is too short to not fully enjoy every moment.
Judy L instructs the following:
This breath to movement class that combines free weights with yoga and cardio to increase stamina and strength. Sculpt is a total body workout designed to sculpt and define every major muscle group. This class is high energy with upbeat music.




This high-intensity, vinyasa-style flow class incorporates small hand weights and cardio to burn fat and build lean muscle mass. This power-up session builds strength, stamina, and flexibility. Free weights serve as your own personal adjuster as you move through Sun Salutations in a vinyasa-style class, enabling extra length and depth in each pose. Designed for intermediate levels in a room heated to 100-105 degrees.