Ola A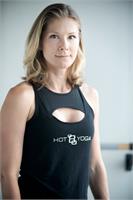 Ola's passion and dedication inspires a healthful and fit lifestyle rooted in the philosophy that life is a gift that we are invited to remember and celebrate in our yoga practice. She believes that through yoga practice we can all find the best version of ourselves. Ola is NCSF PT certified and received her formal degree from Saint-Petersburg University Of Humanities and Social Sciences in Russia. Some of Ola's training accomplishments include teacher training in: Anusara Yoga in Bali, Indonesia - Bikram Yoga & MadDog Spinning in Los Angeles, CA and Tony Sanchez 26 Core + in Baja, Mexico.
Ola A instructs the following:
This hour-long, shoulder-friendly class focuses on strengthening without chaturangas (high to low push-ups). A balanced mix of both our Hot Yoga and Power Yoga styles, HPF will both restore and revitalize your muscles. It includes standing postures, core work, deep hip openers, and inversions. All levels welcome. Heated to 105-109 degrees.