Ola A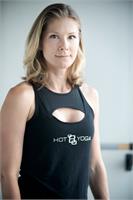 Ola's passion and dedication inspires a healthful and fit lifestyle rooted in the philosophy that life is a gift that we are invited to remember and celebrate in our yoga practice. She believes that through yoga practice we can all find the best version of ourselves. Ola is NCSF PT certified and received her formal degree from Saint-Petersburg University Of Humanities and Social Sciences in Russia. Some of Ola's training accomplishments include teacher training in: Anusara Yoga in Bali, Indonesia - Bikram Yoga & MadDog Spinning in Los Angeles, CA and Tony Sanchez 26 Core + in Baja, Mexico.
Ola A instructs the following:
A Vinyasa-style flow class with added free weights for increased muscle endurance. This power up session is designed to tone and sculpt every major muscle group. Free weights serve as your own personal adjuster to deepen your practice. Strength training builds lean muscle mass and boosts metabolism even while resting. Intermediate level class-weights are always optional; temp 104-107




This hour-long, shoulder-friendly class focuses on strengthening without chaturangas (high to low push-ups). A balanced mix of both our Hot Yoga and Power Yoga styles, HPF will both restore and revitalize your muscles. It includes standing postures, core work, deep hip openers, and inversions. All levels welcome. Heated to 105-109 degrees.




Yoga Barre $8 Community Classes taught by our recent graduates!

A dynamic fusion of yoga, body sculpting, barre work, and non-impact cardio that will get you long and lean. Yoga Barre is inspired by the revolutionary exercise routine developed in London by the world-famous modern dancer, Lotte Berk and her orthopedist. This class is a cardiovascular program of isometric exercises and orthopedic stretches designed to improve your posture and form a sculpted physique. Intermediate level class; temp 104-109

**Must purchase the $8 Community class at the studio. It is not available online.


All who have 10 class packages will need to purchase the $8 class separately from your current package.

Those with memberships and yearly contracts, this class will be deducted from your current membership. It is included in the membership.




This high-intensity, vinyasa-style flow class incorporates small hand weights and cardio to burn fat and build lean muscle mass. This power-up session builds strength, stamina, and flexibility. Free weights serve as your own personal adjuster as you move through Sun Salutations in a vinyasa-style class, enabling extra length and depth in each pose. Designed for intermediate levels in a room heated to 100-105 degrees.