Will S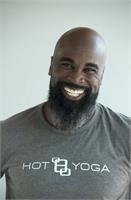 Im originally from Texas and am a lifelong soccer player and all around athlete. My life revolved around physical fitness and being active. Over the years a series of injuries limited me so much, that I could barely jog without experiencing pain. After running out of non-surgical options to rebuild strength and flexibility, I stumbled into a yoga class.
What started out as a way to get back on the field slowly evolved into a way of life. I learned there's much more to this practice than just the physical aspects. I learned to not let the big picture slow you down, but instead, to appreciate life moment by moment and to be thankful for who I am now. Yoga has changed me in ways I could never have imagined.
This greater understanding was the spark that made me want to become a yoga teacher. My goal is to help others unlock the benefits of yoga, both physical and mental. I want to help folks stop and smell the roses and appreciate the greatness that lies within.
Will S instructs the following:
This foundational class connects breath to movement (vinyasa) and focuses on proper alignment to set students up for success in all styles offered at Hot 8 Yoga. The temperature is set at a lower level to help acclimate students to the heat. Power 1 is an excellent full body strengthening class for both new and experienced students to learn any necessary modifications to improve their practice.