Emily Y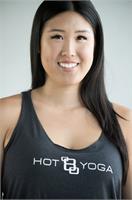 Initially, I came to my mat when my best friend introduced me to a Hot Power Fusion class in college. From there, my practice was just another way to move my body through space, and a great way to challenge my body physically. It wasn't until a few classes in, I discovered what a vital role Yoga was playing in my mental and spiritual health evolution. Yoga became my space to find peace of mind, seek higher purpose, and connect deeply with community. After my first Yoga Teacher Training in 2012, I have continued to deepen my practice and share every bit of power, vinyasa, and meditation with others.
Emily Y instructs the following:
This breath to movement class that combines free weights with yoga and cardio to increase stamina and strength. Sculpt is a total body workout designed to sculpt and define every major muscle group. This class is high energy with upbeat music.




New to meditation? This is the perfect place to start. Become more relaxed, efficient, and compassionate in just 15 minutes. This silent practice is conducted in a group setting for a more powerful experience of deepening your collective awareness.