Stephanie L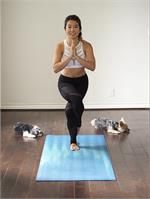 Born and raised in Los Angeles, Stephanie has always had an active lifestyle from tennis to hiking to crossfit. She found yoga a year ago and fell in love with it's healing aspect for the mind, body and soul. She started practicing yoga daily and felt her body grow stronger and her mind grow calmer. With a busy work schedule as a CPA, Stephanie finally decided to take the plunge to become a teacher, starting with Yoga Sculpt, this past summer and is really excited to help her students love yoga as much as she does.
Stephanie has two puppies, Megatron and Rocket, with whom she does everything with. She enjoys taking them on hikes and snuggling up with them in bed. She also loves to travel and her favorite cities are Paris, New York and Hong Kong. Stephanie loves getting to know her students so be sure to come chat with her after class!
Stephanie L instructs the following:
This breath to movement class that combines free weights with yoga and cardio to increase stamina and strength. Sculpt is a total body workout designed to sculpt and define every major muscle group. This class is high energy with upbeat music.




This intermediate vinyasa-style class guides students through more advanced postures and creative sequencing. Power links breath to movement and may include arm-balances, inversions and twists to stretch and strengthen the body. Accompanied by music.