Karen P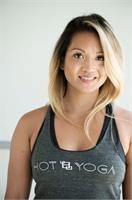 I was first introduced to yoga in college, but didn't get involved and more consistent in my practice until 2012. I was going through a transition period in my life and found yoga to be my salvation, I was going every day consistently when the studio I was attending was having their first yoga training, in which I completed my 200hr RYT through Yoga Alliance. From there I gained a ybarre and basic mat pilates certification and have been teaching these styles along with Vinyasa base yoga since. What you can expect in my class is emphasis on alignment, lots of high energy, and embracing that fire within! I fell in love with yoga because of how versatile it can be, and especially the incorporation of a mental, physical, and spiritual practice. Whether young, old, injured, unfamiliar or advanced- yoga addresses a variety of aspects one may be seeking for. Yoga takes you as you are, whole heartedly, and teaches the yogi to do the same. I want my students to have fun in my class, whatever level they may be, to explore their potential and progress past their limits. When incorporating barre/scuplt movements, there is an added high pace ambiance for those looking to condition themselves further by building strength and endurance. Let's breathe, smile, and sweat!
Karen P instructs the following:
This breath to movement class that combines free weights with yoga and cardio to increase stamina and strength. Sculpt is a total body workout designed to sculpt and define every major muscle group. This class is high energy with upbeat music.




This intermediate vinyasa-style class guides students through more advanced postures and creative sequencing. Power links breath to movement and may include arm-balances, inversions and twists to stretch and strengthen the body. Accompanied by music.