Karen P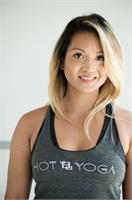 I was first introduced to yoga in college, but didn't get involved and more consistent in my practice until 2012. I was going through a transition period in my life and found yoga to be my salvation, I was going every day consistently when the studio I was attending was having their first yoga training, in which I completed my 200hr RYT through Yoga Alliance. From there I gained a ybarre and basic mat pilates certification and have been teaching these styles along with Vinyasa base yoga since. What you can expect in my class is emphasis on alignment, lots of high energy, and embracing that fire within! I fell in love with yoga because of how versatile it can be, and especially the incorporation of a mental, physical, and spiritual practice. Whether young, old, injured, unfamiliar or advanced- yoga addresses a variety of aspects one may be seeking for. Yoga takes you as you are, whole heartedly, and teaches the yogi to do the same. I want my students to have fun in my class, whatever level they may be, to explore their potential and progress past their limits. When incorporating barre/scuplt movements, there is an added high pace ambiance for those looking to condition themselves further by building strength and endurance. Let's breathe, smile, and sweat!
Karen P instructs the following:
This high-intensity, vinyasa-style flow class incorporates small hand weights and cardio to burn fat and build lean muscle mass. This power-up session builds strength, stamina, and flexibility. Free weights serve as your own personal adjuster as you move through Sun Salutations in a vinyasa-style class, enabling extra length and depth in each pose. Designed for intermediate levels in a room heated to 100-105 degrees.




A Vinyasa-style dynamic flow class, Hot Power Yoga uses breath as the primary link between attentiveness and integration of the mind and body. Hot Power Yoga is an intense practice that will flow you through strengthening postures throughout the entire class. This practice is meant to detoxify the body and burn calories through movement, breath, and heat. Designed for intermediate to advanced levels. Heated to 105-109 degrees.




Hot Yoga Barre is a dynamic fusion of yoga, body sculpting, barre work, and non-impact cardio designed for developing long and lean muscles. This hour-long class is packed with toning exercise that sculpt the buttocks, abdominals, thighs, and arms. The class is filled with strengthening postures at the barre working legs and abdominals fused with yoga postures on the mat to release and lengthen from the barre work. It will also improve your posture and form a sculpted physique. Hot Yoga Barre is an intermediate level class practice in a room heated to 104-109 degrees.