Mariam S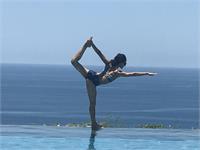 Mariam, a Pasadena native, began teaching dance fitness classes in 2002 at the renowned Anteater Recreational Center at UC Irvine, where she earned her Bachelors Degree.
She created a belly dance fitness class that earned her accolades for her format's popularity and uniqueness, and in the process, has truly transformed the notion that belly dancing is only meant to be in the dance studio.
Mariam is also certified in various dance and cardio formats, most notably Zumba and Barre, and has taught for a few of the most prestigious fitness clubs in Seattle and San Francisco.
While teaching Yoga Barre for Hot 8 Yoga, she was inspired to continue her yoga journey and education by receiving both her Yoga Vibe and RYT 200 certifications.
With a strong passion for dance and yoga, 12+ years of experience in instructing, and a special appreciation for helping her clients build their pelvic floor, Mariam enjoys providing eclectic music, strong technique , and an upbeat attitude to all her classes.
Mariam S instructs the following:
This class is a dynamic fusion of barre work, light weights, non-impact cardio and yoga designed for developing long and lean muscles. By activating small muscles groups this class provides cross training and aids in injury prevention and recovery. Yoga Barre is a high energy class and is excellent for anyone looking to tone legs, booty, core, and arms to upbeat music.