Lisa P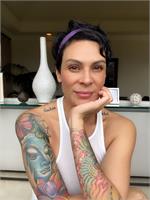 Lisa stepped into her first yoga class over 15 years ago. She found the practice to be so challenging yet she continued to land on her mat day after day. As her body became stronger, she noticed there were just as many emotional benefits to the practice as there were physical. It was much easier to manage stress, anxiety and daily life.
After relocating to Los Angeles from Texas, her home state, she decided to take her practice one step further. In 2013, she completed her first 500 hr teacher training. Forever a student, Lisa continues to educate herself when ever possible. She believes that every class is a new experience and a opportunity to learn and feel something new. By connecting with her students, she has created a style of teaching that encourages everyone to embrace the uniqueness of their own bodies. From beginner to advanced, Lisa's classes are accessible to everyone. While finding strength in the body, Lisa also challenges her students mentally. By finding the balance of physical and mental strength, Lisa creates a space of security and infinite possibility.
Lisa P is currently not instructing any classes.