Jenn C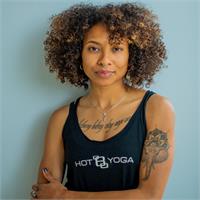 Jenn has explored the many facets of life with a challenge. She has been practicing yoga for three years, but defines her practice as beginning the moment she completed her 200-hour Teacher Training in 2016. She seeks to bring the old spirit of hers into class and spread compassion, love and peace. Jenn holds space for people to realize their own strength, potential and truth. To be inspired by the mere essence of life, and sensitive to its simple moments , makes her a child at heart; with this she hopes to keep the inner-child alive in all. She hopes to encourage self-awareness and consciousness in an open space of acceptance. The practice of yoga brings the practice of peace into the daily life and that is just what she seeks to do for those she encounters. Bless
Jenn C instructs the following:
This intermediate vinyasa-style class guides students through more advanced postures and creative sequencing. Power links breath to movement and may include arm-balances, inversions and twists to stretch and strengthen the body. Accompanied by music.




This foundational class connects breath to movement (vinyasa) and focuses on proper alignment to set students up for success in all styles offered at Hot 8 Yoga. The temperature is set at a lower level to help acclimate students to the heat. Power 1 is an excellent full body strengthening class for both new and experienced students to learn any necessary modifications to improve their practice.