Rachael B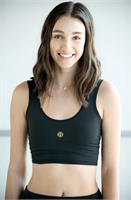 One of Rachael's favorite aspects of life, is the opportunity to encourage, impact, and uplift others. Through teaching Yoga, she's found a creative space to plant seeds of kindness, while offering a practice that brings health on a physical and mental level. Her current mantra is "Contrary to popular belief, yoga isn't only about flexibility. Come as you are, and let's play!".
Rachael B instructs the following:
This hour-long, shoulder-friendly class focuses on strengthening without chaturangas (high to low push-ups). A balanced mix of both our Hot Yoga and Power Yoga styles, HPF will both restore and revitalize your muscles. It includes standing postures, core work, deep hip openers, and inversions. All levels welcome. Heated to 105-109 degrees.




This high-intensity, vinyasa-style flow class incorporates small hand weights and cardio to burn fat and build lean muscle mass. This power-up session builds strength, stamina, and flexibility. Free weights serve as your own personal adjuster as you move through Sun Salutations in a vinyasa-style class, enabling extra length and depth in each pose. Designed for intermediate levels in a room heated to 100-105 degrees.