Rachael Bell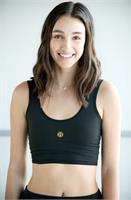 One of Rachael's favorite aspects of life, is the opportunity to encourage, impact, and uplift others. Through teaching Yoga, she's found a creative space to plant seeds of kindness, while offering a practice that brings health on a physical and mental level. Her current mantra is "Contrary to popular belief, yoga isn't only about flexibility. Come as you are, and let's play!".
Rachael Bell instructs the following:
This set series is an hour-long, shoulder and wrist-friendly class without chaturangas (high to low push-ups) that combines the 26 & 2 and Power Yoga styles. Hot Power Fusion includes balancing, core work, hip openers and inversions accompanied by music, encouraging mindful focus and detoxification.




This breath to movement class that combines free weights with yoga and cardio to increase stamina and strength. Sculpt is a total body workout designed to sculpt and define every major muscle group. This class is high energy with upbeat music.