Christine V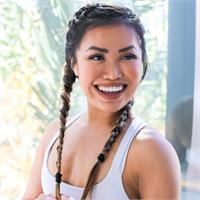 Christine V. Nguyen is never quite sure whether she found yoga, or yoga found her. Always an athlete with a natural love for movement, she fell in love at first with the asana — the physical layer of the practice. It was later, when dealing with personal loss and grief within her family and interpersonal relationships, that her true yoga practice began. Yoga helped her cultivate a necessary sense of stillness and even deep gratitude, in what was otherwise a paralyzing period in her life.
Christine received her 200-HR certification through Jennifer Prugh with the Joy of Yoga teacher training in Los Gatos, California. Her training emphasized the deep roots and history of yoga, as well as safely and intuitively opening the body for the physical practice. As a result, her classes are as much about cultivating body awareness and meeting physical challenges fearlessly, as it is about opening up the heart. Christine is also Yoga Sculpt certified, and believes that this fun, challenging format helped build her strength for a more advanced vinyasa practice.
Above all, Christine believes that time on the mat is a move towards a daily practice of joy and gratitude — come and play with her!
Christine V instructs the following:
This foundational class connects breath to movement (vinyasa) and focuses on proper alignment to set students up for success in all styles offered at Hot 8 Yoga. The temperature is set at a lower level to help acclimate students to the heat. Power 1 is an excellent full body strengthening class for both new and experienced students to learn any necessary modifications to improve their practice.




This intermediate vinyasa-style class guides students through more advanced postures and creative sequencing. Power links breath to movement and may include arm-balances, inversions and twists to stretch and strengthen the body. Accompanied by music.




Come and ask questions about the upcoming, Yoga Alliance certified Power Teacher Training!!

Training will be September 8th - November 11th, Saturday and Sunday 11am - 6pm Wednesdays 6pm - 9pm

Led by Alex H, Sarah H, and Eddy R!!