Christine V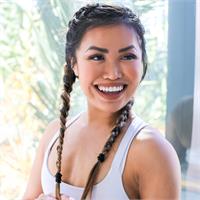 Christine V. Nguyen is never quite sure whether she found yoga, or yoga found her. Always an athlete with a natural love for movement, she fell in love at first with the asana — the physical layer of the practice. It was later, when dealing with personal loss and grief within her family and interpersonal relationships, that her true yoga practice began. Yoga helped her cultivate a necessary sense of stillness and even deep gratitude, in what was otherwise a paralyzing period in her life.
Christine received her 200-HR certification through Jennifer Prugh with the Joy of Yoga teacher training in Los Gatos, California. Her training emphasized the deep roots and history of yoga, as well as safely and intuitively opening the body for the physical practice. As a result, her classes are as much about cultivating body awareness and meeting physical challenges fearlessly, as it is about opening up the heart. Christine is also Yoga Sculpt certified, and believes that this fun, challenging format helped build her strength for a more advanced vinyasa practice.
Above all, Christine believes that time on the mat is a move towards a daily practice of joy and gratitude — come and play with her!
Christine V instructs the following:
Yoga Vibe is a class that links breath to movement and beat as we seamlessly practice the postures to soulful sounds. Candles and high volume music set the ambiance of the room. The fast paced journey concludes with long stretches, deep hip openers and a guided meditation. Expect less alignment cues to help you remain centered and in your practice. Intermediate level recommended. Heated to 105-107 degrees. Class created by Omar Lopez.




This high-intensity, vinyasa-style flow class incorporates small hand weights and cardio to burn fat and build lean muscle mass. This power-up session builds strength, stamina, and flexibility. Free weights serve as your own personal adjuster as you move through Sun Salutations in a vinyasa-style class, enabling extra length and depth in each pose. Designed for intermediate levels in a room heated to 100-105 degrees.




A Vinyasa-style dynamic flow class, Hot Power Yoga uses breath as the primary link between attentiveness and integration of the mind and body. Hot Power Yoga is an intense practice that will flow you through strengthening postures throughout the entire class. This practice is meant to detoxify the body and burn calories through movement, breath, and heat. Designed for intermediate to advanced levels. Heated to 105-109 degrees.




INVIGOR8 MEDITATION will ease you into your day with this energizing 15 minute practice. Dhyana (Meditation) is the 7th limb or step of yoga, from the 8 Limbs of Yoga, where Hot 8 Yoga gets its name. Meditation helps deepen your awareness and helps you start assisting in positive thinking patterns so that you leave class refreshed for the rest of your day. All levels welcome. Low heat. $8 per class, included in all memberships.