Alex N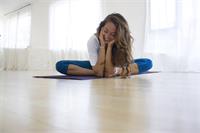 Alex completed her 500 Hour Certification at ISHTA Yoga under the guidance of Yogiraj Alan Finger, apprenticing Yogiraj Mona Anand. This training was the catalyst for an overwhelming love of neuroscience, and specifically, a curiosity for neuroplasticity, the brain's ability to rewire itself. Her personal research in this field has brought her to an abundant source of hope for the human race to change the way we relate to ourselves and others by changing the thoughts in our head. Alex's practice and teaching is now informed by the relationship between yoga, meditation, and refined change on a cellular level. Her teaching harnesses the evolving nature of the human mind so that students can empower themselves to change their own personal reality. She currently lives in Santa Monica, California where she is pursuing a degree in Neuroscience.
Alex N instructs the following:
Hot Yin Yoga is a restorative class designed to release tension and calm the nervous system. With the gentle support of props, students will passively stretch and energize the body's deep connective tissue. Enjoy the therapeutic benefits of deep relaxation in a heated room of 95-100 degrees.




A Vinyasa-style dynamic flow class, Hot Power Yoga uses breath as the primary link between attentiveness and integration of the mind and body. Hot Power Yoga is an intense practice that will flow you through strengthening postures throughout the entire class. This practice is meant to detoxify the body and burn calories through movement, breath, and heat. Designed for intermediate to advanced levels. Heated to 105-109 degrees.