Natalie M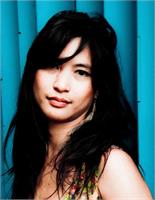 Natalie has spent years spanning the globe immersed in the quest for deep connection and radically fun living and loves to share her direct experience of healing her body and spirit with others. She is delighted to land in LA after an eight year stint in Asia and deeply immersing herself in the Bhakti Yoga traditions, to be closer to her teachers, including Shiva Rea and the beloved Sangha. Natalie's resident yoga schedule is in Los Angeles, but she also travels within South East Asia as a guest teacher. She is honored to be part of Samudra School of Living Vinyasa and grateful for studying with Shiva Rea and for the support and friendship of the Prana Vinyasa tribe.
Her heart-based, joyful classes offer an opportunity for students to experience and deepen their own yoga practice and come home to themselves. Her classes are often marked by opening and closing the class with her harmonium and essential oils. Natalie loves chanting, often sings to her students in Savasana, and leads Kirtans. She strives to best serve the community by cultivating and embodying calm, kindness and compassion so her students can sense their highest state of peace. Natalie finds inspiration from all her teachers and students to live life with spontaneity, to remain close to the source and to move deeply in tune with the pulse of the universe. She is excited to heal, evolve, and transcend through yoga and other conscious thoughts and actions.
Natalie M is currently not instructing any classes.