Maks A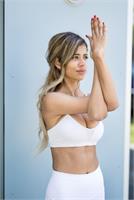 "The path of yoga is the path of self-discovery"- Amrit Desai. No matter where we come from or what we do, yoga is there to firmly ground us and help with this journey to our inner true self. I've been raised in LA for almost all my life and can understand how our sense of self can get a little foggy. Yoga has been helping me slowly peel through my layers and gain a stronger sense of self. I want to share and hope to inspire along the way as I go through this journey.
Maks A instructs the following:
This foundational class connects breath to movement (vinyasa) and focuses on proper alignment to set students up for success in all styles offered at Hot 8 Yoga. The temperature is set at a lower level to help acclimate students to the heat. Power 1 is an excellent full body strengthening class for both new and experienced students to learn any necessary modifications to improve their practice.




Power Yoga $8 Community class taught by recent graduates!

A Vinyasa-style flow class designed for beginners to learn proper alignment and breath. It is a whole body strengthening practice that includes Sun Salutations, standing postures, simple arm balances, core strengthening, back bends, hip openers, and basic inversions. This class is excellent for those new to yoga as well as those with injuries to learn modifications; temp 100-105

**Must purchase the $8 Community class at the studio. It is not available online.


All who have a 10 class package will need to purchase the $8 class separately from your current package. Those with memberships and yearly contracts, this class will be deducted from your current membership.