Tracy B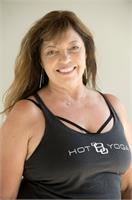 I moved from Australia to Los Angeles and soon after, I experienced my first yoga class. I was amazed at how peaceful it made me feel…I was
floating out of the classroom afterwards!
Life got busy and I got caught up in my music career spending many hours sitting editing music on a computer … Cut to 2012, and I was experiencing pain and very real back issues. I was in trouble.
After physical therapy, I discovered Hot 8 Yoga in Santa Monica and gave it a try. My first yin class in the heated room changed my life! In a short amount of time, I regained mobility and was free from pain and so much more.
I wanted to learn how to teach yin yoga to help others and so I took the 200 hr teacher training course under the expert supervision of Deanna
Ainsworth and Rebekah Rivera.
This is a beautiful caring community and I'm thrilled to be able to share my love of Yin with you.
Tracy B instructs the following:
Yin Yoga targets the connective tissues of the chest, shoulders, hips, pelvis, and lower spine, with the aim of increasing circulation in the joints and improving flexibility. A more meditative approach to yoga, yin aims at cultivating awareness through long held postures with the use of props. Hot Yin Yoga compliments a more active (Yang) practice because it improves flexibility, ease and balance. Heated to 100 degrees.