Tracy B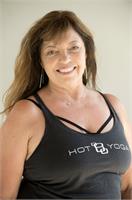 I moved from Australia to Los Angeles and soon after, I experienced my first yoga class. I was amazed at how peaceful it made me feel…I was
floating out of the classroom afterwards!
Life got busy and I got caught up in my music career spending many hours sitting editing music on a computer … Cut to 2012, and I was experiencing pain and very real back issues. I was in trouble.
After physical therapy, I discovered Hot 8 Yoga in Santa Monica and gave it a try. My first yin class in the heated room changed my life! In a short amount of time, I regained mobility and was free from pain and so much more.
I wanted to learn how to teach yin yoga to help others and so I took the 200 hr teacher training course under the expert supervision of Deanna
Ainsworth and Rebekah Rivera.
This is a beautiful caring community and I'm thrilled to be able to share my love of Yin with you.
Tracy B instructs the following:
Hot Yin Yoga is a restorative class designed to release tension and calm the nervous system. With the gentle support of props, students will passively stretch and energize the body's deep connective tissue. Enjoy the therapeutic benefits of deep relaxation in a heated room of 95-100 degrees.