Dana C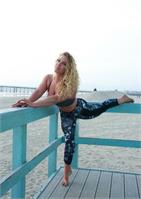 Having grown up in her family's health clubs and dance studios on the east coast, fitness is second nature to Dana. After three years of being in Los Angeles, she decided to return to her roots and join the Hot 8 Yoga teacher community. When not practicing, she is Director of Sales and Marketing for a brand promotion supplier. She incorporates her knowledge of fitness, her business acumen, and innate leadership skills into her teaching.
Dana is constantly looking to grow by attending classes, workshops, trainings, and organizing independent practices. She holds numerous certifications; Madd Dog Spinning, Yoga Barre and Yoga Sculpt. Dana's passion for dance, yoga, weight training, running and spin is just as contagious as her enthusiasm and positivity. Her objective is to serve every client, student, and friend who joins her for a class by creating an hour of transformation. Powered by hi-energy music and genuine encouragement, her classes are the perfect combination of challenging and gratifying.
Her motto: "The body achieves, what the mind believes. Change begins in our thoughts first."
Dana C instructs the following:
This class is a dynamic fusion of barre work, light weights, non-impact cardio and yoga designed for developing long and lean muscles. By activating small muscles groups this class provides cross training and aids in injury prevention and recovery. Yoga Barre is a high energy class and is excellent for anyone looking to tone legs, booty, core, and arms to upbeat music.




This breath to movement class that combines free weights with yoga and cardio to increase stamina and strength. Sculpt is a total body workout designed to sculpt and define every major muscle group. This class is high energy with upbeat music.