Heather R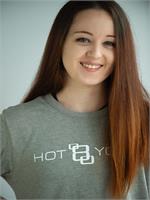 Heather Rebecca O'Neill began dancing at the age of four and can truly not remember a day without dance being in her life. Heather attended Orange County School of the Arts for high school as a dancer. She began teaching and choreographing at Kindorf Dancers in Cypress at the age of sixteen. This is when she truly began realizing her passion for teaching, crediting her own teachers who inspired her love for dance. Heather then decided to further her training in dance and choreography by attending California Institute of the Arts in Valencia, graduating in 2016 with her B.F.A. in dance. While practicing yoga for 7 years, it wasn't until college that Heather discovered her focus in Yoga Barre with the help of Nancy Norby and the amazing people at Hot 8 Yoga. Yoga Barre became an amazing complement for her dancing, helped with injuries from her dance career, and improved her everyday life. Just like in dance, Heather's passion grew from the amazing teachers at Hot 8 Yoga. Today she is excited to share that enthusiasm and her love of yoga barre with her students!
Heather R instructs the following:
This class is a dynamic fusion of barre work, light weights, non-impact cardio and yoga designed for developing long and lean muscles. By activating small muscles groups this class provides cross training and aids in injury prevention and recovery. Yoga Barre is a high energy class and is excellent for anyone looking to tone legs, booty, core, and arms to upbeat music.




This breath to movement class that combines free weights with yoga and cardio to increase stamina and strength. Sculpt is a total body workout designed to sculpt and define every major muscle group. This class is high energy with upbeat music.