Heather R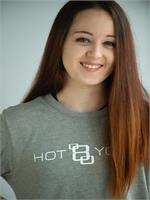 Heather Rebecca O'Neill began dancing at the age of four and can truly not remember a day without dance being in her life. Heather attended Orange County School of the Arts for high school as a dancer. She began teaching and choreographing at Kindorf Dancers in Cypress at the age of sixteen. This is when she truly began realizing her passion for teaching, crediting her own teachers who inspired her love for dance. Heather then decided to further her training in dance and choreography by attending California Institute of the Arts in Valencia, graduating in 2016 with her B.F.A. in dance. While practicing yoga for 7 years, it wasn't until college that Heather discovered her focus in Yoga Barre with the help of Nancy Norby and the amazing people at Hot 8 Yoga. Yoga Barre became an amazing complement for her dancing, helped with injuries from her dance career, and improved her everyday life. Just like in dance, Heather's passion grew from the amazing teachers at Hot 8 Yoga. Today she is excited to share that enthusiasm and her love of yoga barre with her students!
Heather R instructs the following:
Hot Yoga Barre is a dynamic fusion of yoga, body sculpting, barre work, and non-impact cardio designed for developing long and lean muscles. This hour-long class is packed with toning exercise that sculpt the buttocks, abdominals, thighs, and arms. The class is filled with strengthening postures at the barre working legs and abdominals fused with yoga postures on the mat to release and lengthen from the barre work. It will also improve your posture and form a sculpted physique. Hot Yoga Barre is an intermediate level class practice in a room heated to 104-109 degrees.




This high-intensity, vinyasa-style flow class incorporates small hand weights and cardio to burn fat and build lean muscle mass. This power-up session builds strength, stamina, and flexibility. Free weights serve as your own personal adjuster as you move through Sun Salutations in a vinyasa-style class, enabling extra length and depth in each pose. Designed for intermediate levels in a room heated to 100-105 degrees.