Téo C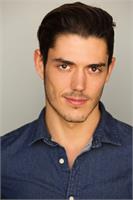 Born and raised in South of France, Téo has always been eager for adventure. At the age of 18 he left his country and travelled the world for 4 years, always looking for the next place to go. His path led him to Los Angeles, California where he discovered the art of yoga and finally found balance in his life. Since then, his passion keeps growing stronger with each passing day. Yoga allows him to align himself with his true Self. As a teacher and student, he is humbled every time he get to share his practice and help others ensuing possibility for growth and transformation. By committing to a daily practice he knows that we create new patterns of light and abundance in our lives, we learn to study our own mind and body in our quest for the true Self. Yoga brought out the best in him and he is excited to share it with you.
Téo C instructs the following:
This Vinyasa-style flow class designed for beginners features a set sequence. Pairing breath with movement, Hot Power 1 is meant to help integrate the mind/body connection. It is a whole body strengthening practice that includes Sun Salutations, standing postures, simple arm balances, core strengthening, backbends, hip-openers, basic inversions, and restorative postures. Hot Power 1 is an excellent class for both new and old students to learn proper yoga alignment and any necessary modifications. Heated to 100-105 degrees.




INVIGOR8 MEDITATION will ease you into your day with this energizing 15 minute practice. Dhyana (Meditation) is the 7th limb or step of yoga, from the 8 Limbs of Yoga, where Hot 8 Yoga gets its name. Meditation helps deepen your awareness and helps you start assisting in positive thinking patterns so that you leave class refreshed for the rest of your day. All levels welcome. Low heat. $8 per class, included in all memberships.