Jess B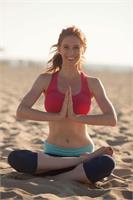 Jess Bishop is a 200 hr. E-RYT (Experienced Registered Yoga Teacher, Yoga Alliance) based in Los Angeles. Jess began her teaching career in 2010 when she received her Masters in Teaching from the University of Pittsburgh. She taught ninth grade English for three years through the Teach for America program before moving to Los Angeles where she also works as a producer, actor, and writer. Jess has long used yoga as a means of creating balance, happiness, and harmony in her busy life and knows first-hand the life-changing benefits that yoga provides through the mind, body, and spirit connection. She encourages her students to challenge themselves, using their yoga practice as a way to make positive changes both on and off the mat.
Jess B instructs the following:
This hour-long, shoulder-friendly class focuses on strengthening without chaturangas (high to low push-ups). A balanced mix of both our Hot Yoga and Power Yoga styles, HPF will both restore and revitalize your muscles. It includes standing postures, core work, deep hip openers, and inversions. All levels welcome. Heated to 105-109 degrees.