Bailey K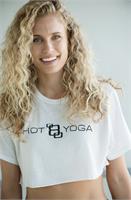 Bailey has been calling Los Angeles home since 2012. She discovered yoga in her teens when she stepped away from gymnastics and competitive cheerleading and needed something to supplement her love of movement. Having studied music her entire life, she found herself particularly drawn to the Barre style at Hot 8, because it incorporated music so heavily. She completed her Yoga Barre Teacher Training under Nancy Norby in Oct 2016.
Bailey K instructs the following:
This class is a dynamic fusion of barre work, light weights, non-impact cardio and yoga designed for developing long and lean muscles. By activating small muscles groups this class provides cross training and aids in injury prevention and recovery. Yoga Barre is a high energy class and is excellent for anyone looking to tone legs, booty, core, and arms to upbeat music.