Antwan T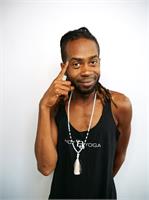 Born and raised In Jacksonville, FL, an only child, Antwans love and passion for the arts and athletics produced a super athlete with a flair for the creative. Nationally competing in Gymnastics, Springboard and Platform diving, Cheerleading and Martial Arts, health and fitness have always been a major part of his lifestyle. Having suffered knee and back injuries in his collegiate years, he was later introduced to yoga for rehabilitation. It was an instant connection " My body had never felt so energized and alive. It was a natural high I had never experienced". Working professionally in LA, ATL and MIA as a hip hop dancer/teacher/choreographer he attributes his longevity for both dance and athletics to this yoga practice! Knowing how and what this practice can do for not only your body but your spirit as well, led him to do his first teacher training of Yoga Barre this year with the incredible and incomparable Nancy Norby at Hot8yoga Studios. He is excited to embark on this new journey and chapter in life of teaching and healing lives, while having a GROOVY TIME!
Antwan T instructs the following:
This class is a dynamic fusion of barre work, light weights, non-impact cardio and yoga designed for developing long and lean muscles. By activating small muscles groups this class provides cross training and aids in injury prevention and recovery. Yoga Barre is a high energy class and is excellent for anyone looking to tone legs, booty, core, and arms to upbeat music.




This slow-moving class targets connective tissue through seated and lying postures held for long periods of time with the use of blocks and straps. Yin compliments the more active classes offered at Hot 8 Yoga by increasing circulation in the joints and improving flexibility. This practice is perfect for all levels and those recovering from injury.




This intermediate vinyasa-style class guides students through more advanced postures and creative sequencing. Power links breath to movement and may include arm-balances, inversions and twists to stretch and strengthen the body. Accompanied by music.




Enjoy the benefits of deep relaxation as the therapeutic vibrations of sound bowls surround you in order to reduce stress and anxiety. New to meditation? This is the perfect place to start. Become more relaxed, efficient, and compassionate. This practice is conducted in a group setting for a more powerful experience of deepening your collective awareness.