Antwan T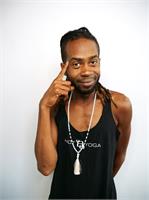 Born and raised In Jacksonville, FL, an only child, Antwans love and passion for the arts and athletics produced a super athlete with a flair for the creative. Nationally competing in Gymnastics, Springboard and Platform diving, Cheerleading and Martial Arts, health and fitness have always been a major part of his lifestyle. Having suffered knee and back injuries in his collegiate years, he was later introduced to yoga for rehabilitation. It was an instant connection " My body had never felt so energized and alive. It was a natural high I had never experienced". Working professionally in LA, ATL and MIA as a hip hop dancer/teacher/choreographer he attributes his longevity for both dance and athletics to this yoga practice! Knowing how and what this practice can do for not only your body but your spirit as well, led him to do his first teacher training of Yoga Barre this year with the incredible and incomparable Nancy Norby at Hot8yoga Studios. He is excited to embark on this new journey and chapter in life of teaching and healing lives, while having a GROOVY TIME!
Antwan T instructs the following:
Hot Yoga Barre is a dynamic fusion of yoga, body sculpting, barre work, and non-impact cardio designed for developing long and lean muscles. This hour-long class is packed with toning exercise that sculpt the buttocks, abdominals, thighs, and arms. The class is filled with strengthening postures at the barre working legs and abdominals fused with yoga postures on the mat to release and lengthen from the barre work. It will also improve your posture and form a sculpted physique. Hot Yoga Barre is an intermediate level class practice in a room heated to 104-109 degrees.