Melissa G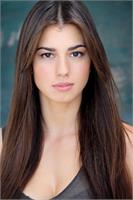 Melissa's love for movement and athletics began at a young age. She was brought to the matt as a young student studying at the National Ballet School of Canada. Melissa was immediately drawn to the spiritual benefits of yoga, a stark contrast from her rigors dance environment.
Having graduated with a BFA in dance and choreography from The California Institute of the Arts Melissa's professional career took off. Juggling a demanding concert and commercial career meant lots of touring and performing in all sorts of conditions. Melissa found sanity for her body and mind through yoga.
In 2011, Melissa completed her 200 RYT with YogaWorks, under master teacher Patti Quintero and Olivia Barry. Due to her touring schedule Melissa began teaching privately in 2012 through out Los Angeles, New York and Toronto.
Melissa is dedicated to the needs of her students and incorporates a little bit of everything in her classes. While form and technique is of great importance she also understands her students need to feel inspired. Music, joy and growth are fundamentals in all of her classes.
Melissa is honored to join the Hot 8 Yoga community!
Website: www.melissamovement.com
Instagram: melissagenoveseyoga
Melissa G is currently not instructing any classes.