Jess P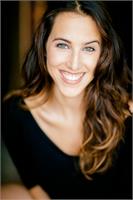 Jess recently moved to LA from New York City after 14 years & 7 Broadway shows. A trained singer, actor, dancer & athlete from the age of 5, she has never really been able to sit still. That is until yoga & meditation came into her life. She was first drawn to yoga for its healing properties & to move her body in a way that countered the strenuous repetition of her intense, physically demanding shows. Her life was forever changed once she stepped into the heat. Through the next 14 years she practiced as much as an 8 show a week schedule would allow, always sensing that teaching yoga would someday be in her future. After moving to LA, Jessica dove head first into a full-time yoga practice & became certified in Yin Yoga at Hot 8 under Rebekah Rivera. With 17 years of professional performance experience, 20 years of teaching dance & musical theatre, 14 years of hot yoga practice & 6 years of meditation, she brings a vast knowledge of the body & mind into the studio. Jessica strives to guide each student through their own individual journey & practice. She is thrilled to share yin yogas healing magic with her students & to continue on this incredibly healing journey that yoga has provided her.
www.jessicaleapatty.com IG:jessicaleapatty
Jess P instructs the following:
Yin Yoga targets the connective tissues of the chest, shoulders, hips, pelvis, and lower spine, with the aim of increasing circulation in the joints and improving flexibility. A more meditative approach to yoga, yin aims at cultivating awareness through long held postures with the use of props. Hot Yin Yoga compliments a more active (Yang) practice because it improves flexibility, ease and balance. Heated to 100 degrees.