Eddy R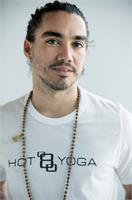 My approach to yoga is understanding that only with a strong committed daily practice, overcoming and pushing through the urge to let the pose overcome you, can one only then begin to shed the layers of the ego that have been holding us back from becoming our truest self leading every decision with an unconditionally loving open heart.
Instagram= Shantiyoganow
Eddy R instructs the following:
A Vinyasa-style dynamic flow class, Hot Power Yoga uses breath as the primary link between attentiveness and integration of the mind and body. Hot Power Yoga is an intense practice that will flow you through strengthening postures throughout the entire class. This practice is meant to detoxify the body and burn calories through movement, breath, and heat. Designed for intermediate to advanced levels. Heated to 105-109 degrees.




Come and celebrate Cinco de Mayo with a Mexican influenced flow class!

Power yoga - all levels welcome.