Eddy R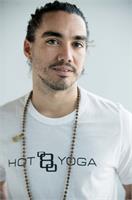 My approach to yoga is understanding that only with a strong committed daily practice, overcoming and pushing through the urge to let the pose overcome you, can one only then begin to shed the layers of the ego that have been holding us back from becoming our truest self leading every decision with an unconditionally loving open heart.
Instagram= Shantiyoganow
Eddy R instructs the following:
This intermediate vinyasa-style class guides students through more advanced postures and creative sequencing. Power links breath to movement and may include arm-balances, inversions and twists to stretch and strengthen the body. Accompanied by music.




New to meditation? This is the perfect place to start. Become more relaxed, efficient, and compassionate in just 15 minutes. This silent practice is conducted in a group setting for a more powerful experience of deepening your collective awareness.




This slow-moving class targets connective tissue through seated and lying postures held for long periods of time with the use of blocks and straps. Yin compliments the more active classes offered at Hot 8 Yoga by increasing circulation in the joints and improving flexibility. This practice is perfect for all levels and those recovering from injury.