Fitzjoy H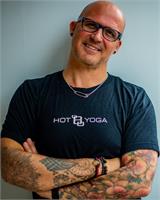 Residing in Los Angeles, world traveling Tour manager in the concert music industry, after lower back surgery in 2007 and an upcoming knee surgery, running and Martial arts where excluded as daily exercise. In search for a new way to release the excess stress and healing of knee and back surgeries Fitzjoy accidentally walked into a beginners yoga class not knowing what he was getting into... He got hooked right away and practiced 6 months daily & nonstop. Knees healed, back relaxed, 25 LBS lighter and completely amazed by this new daily habit. Fitzjoy continues touring the world searching for Studio's to practice any type of yoga before starting his busy days city to city. Spring 2012 was time for a break from the busy extreme lifestyle and walked directly from a last show in India into a Los Angeles teacher training as a 'vacation' from the real world. Right upon completion of the course and with a 500 hr certification Fitzjoy rushed to Brussels, Belgium and Monterrey, Mexico for teaching experience and instructed non stop for weeks. Other teacher trainings and tons of workshops followed.
Fitzjoy can be found weekly in Downtown Juvenile detention teaching young troubled incarcerated youth or on tour instructing his artist clients and touring crew classes on lunch breaks.
Fitzjoy is passionate about people and finds Joy assisting you for greater bodies, stronger minds, long vitality & better health.
Fitzjoy H is currently not instructing any classes.