Rachel R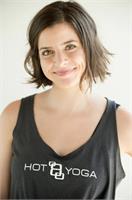 Originally form Texas, Rachel grew up a competitive cheerleader and ballerina. While attending Loyola Marymount University in Los Angeles she discovered her love for yoga. Rachel received her Hot 8 Yoga barre training certification with Nancy Norby and her 200 hour Power certification with Dakota Lupo and Marja Lankinen. Mentorship with Briana DeFalco followed both trainings. With every class, Rachel hopes to spread knowledge and awareness using the benefits of breath, mindfulness and strength.
Rachel R instructs the following:
This Vinyasa-style flow class designed for beginners features a set sequence. Pairing breath with movement, Hot Power 1 is meant to help integrate the mind/body connection. It is a whole body strengthening practice that includes Sun Salutations, standing postures, simple arm balances, core strengthening, backbends, hip-openers, basic inversions, and restorative postures. Hot Power 1 is an excellent class for both new and old students to learn proper yoga alignment and any necessary modifications. Heated to 100-105 degrees.




Hot Yoga Barre is a dynamic fusion of yoga, body sculpting, barre work, and non-impact cardio designed for developing long and lean muscles. This hour-long class is packed with toning exercise that sculpt the buttocks, abdominals, thighs, and arms. The class is filled with strengthening postures at the barre working legs and abdominals fused with yoga postures on the mat to release and lengthen from the barre work. It will also improve your posture and form a sculpted physique. Hot Yoga Barre is an intermediate level class practice in a room heated to 104-109 degrees.