Rachel R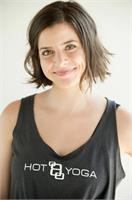 Originally form Texas, Rachel grew up a competitive cheerleader and ballerina. While attending Loyola Marymount University in Los Angeles she discovered her love for yoga. Rachel received her Hot 8 Yoga barre training certification with Nancy Norby and her 200 hour Power certification with Dakota Lupo and Marja Lankinen. Mentorship with Briana DeFalco followed both trainings. With every class, Rachel hopes to spread knowledge and awareness using the benefits of breath, mindfulness and strength.
Rachel R instructs the following:
This intermediate vinyasa-style class guides students through more advanced postures and creative sequencing. Power links breath to movement and may include arm-balances, inversions and twists to stretch and strengthen the body. Accompanied by music.




A Vinyasa-style dynamic flow class which uses breath to movement to integrate the mind/body connection. This intensified practice builds strength through Sun Salutations, standing postures, arm balances, core strengthening and includes backbends, hip openers, as well as inversions. Designed for all levels; temp 104-108




This foundational class connects breath to movement (vinyasa) and focuses on proper alignment to set students up for success in all styles offered at Hot 8 Yoga. The temperature is set at a lower level to help acclimate students to the heat. Power 1 is an excellent full body strengthening class for both new and experienced students to learn any necessary modifications to improve their practice.




New to meditation? This is the perfect place to start. Become more relaxed, efficient, and compassionate in just 15 minutes. This silent practice is conducted in a group setting for a more powerful experience of deepening your collective awareness.