Erin Y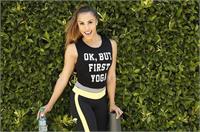 Erin Yvonne has traveled the world dancing behind some of the worlds biggest pop icons such as Janet Jackson, Beyonce, Christina Aguilera, Britney Spears, Katy Perry and Pink to name a few.
The constant movement on the body caused her to find a way to stretch and heal herself.
She discovered hot yoga and never looked back. To Erin, it's more than just about the physical, it holds up a mirror and allows you to see and feel what needs work mentally spiritually and physically.
Yoga is a life long practice that meets you exactly where you're at today.
Erin has a extreme love and passion for guiding other beautiful souls through their moving meditation and inspiring them to their highest version of themselves.
"We are vibrational human beings, deliberate creators that possess the power to create our own reality with our thoughts, emotions, and beliefs"
Erin Y instructs the following:
This set series is an hour-long, shoulder and wrist-friendly class without chaturangas (high to low push-ups) that combines the 26 & 2 and Power Yoga styles. Hot Power Fusion includes balancing, core work, hip openers and inversions accompanied by music, encouraging mindful focus and detoxification.