Naomi Z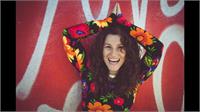 Naomi's spiritual journey began in 2010 after a snowboarding injury landed her in the hospital with a fractured spine. Naomi discovered that when she used yoga as a method of physical therapy that it was not long before she began to feel a better connection with her mind, body, and soul. Since childhood Naomi dealt with low self-esteem and poor body image, it was not until she found yoga that she began a journey to self-love and acceptance. Through yoga Naomi has been able to heal herself from the inside out. Since then she has set her intention to help heal others by helping people find the courage to set their demons free and find unconditional self-love. Naomi holds a Masters Degree in Clinical Psychology and has studied yoga with Masters all over the world including India, Nepal, Indonesia and Cambodia. In addition, Naomi was initiated as a Reiki healer in Thailand in 2015.
Naomi Z instructs the following:
A Vinyasa-style dynamic flow class, Hot Power Yoga uses breath as the primary link between attentiveness and integration of the mind and body. Hot Power Yoga is an intense practice that will flow you through strengthening postures throughout the entire class. This practice is meant to detoxify the body and burn calories through movement, breath, and heat. Designed for intermediate to advanced levels. Heated to 105-109 degrees.