Clayton H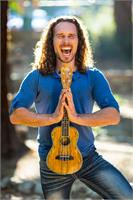 Clayton Hamburg has pursued a passion for movement sing the tender age of 8, when he devoted up to 4 hours daily to the study of martial arts. Since then his journey has taken him into the study and performance of a myriad of musical styles and a host of instruments, an MFA in classical acting, a personal trainer certification, and a healthy dose of dancing, mime, Lecoq mask work, and, of course, the study of yoga. Clayton's desire as a yoga teacher is to bring the meditative union of breath and movement to each and every class, allowing all students to attain a new plane of self understanding, freedom, and growth.
Clayton H instructs the following:
Hot Yin Yoga is a restorative class designed to release tension and calm the nervous system. With the gentle support of props, students will passively stretch and energize the body's deep connective tissue. Enjoy the therapeutic benefits of deep relaxation in a heated room of 95-100 degrees.