Heather T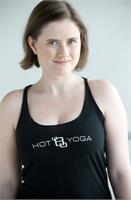 Heather began her yoga journey in 2011. After years of neglecting her body she became intrigued with those "bendy people" and stepped enter her mat. It was love at first pose, she found that not only her body was transformed but that she was finally able to heal her spirit from years of putting others first. In her classes she focuses on creating a space where students can take the time to connect with themselves and there own yoga.
Heather T instructs the following:
This high-intensity, vinyasa-style flow class incorporates small hand weights and cardio to burn fat and build lean muscle mass. This power-up session builds strength, stamina, and flexibility. Free weights serve as your own personal adjuster as you move through Sun Salutations in a vinyasa-style class, enabling extra length and depth in each pose. Designed for intermediate levels in a room heated to 100-105 degrees.