Justyne S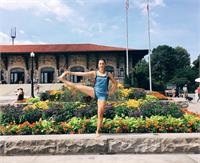 I have grown up my whole childhood as a kind of tomboy. I tried many sports however, soccer and gymnastics really stuck with me. I was able to show off the fast and tough side of myself on the field and the elegant yet strong side of myself on the mat. So, when I moved to Los Angeles in 2008 it was no surprise that I searched for that same physical challenge that both soccer and gymnastics had offered me for so many years. What I wasn't expecting was to find yoga, to find a deep spiritual connection to the practice, and to myself.
After three years of practicing yoga every day and allowing the connections and understandings of the practice to influence and heal me, I knew what I wanted to do. I decided to take teacher training and became certified with two 200-hour certifications in both the Hot Power Fusion sequence as well as the Power sequence. I was broken down and then built back up into a version of myself that I knew was inside me but was always too shy to be seen.
Through my journey of SELF DISCOVERY, SELF LOVE, and ACCEPTANCE, I came to this deep understanding that I need to teach yoga because I want to share this amazing art with the World. I want to heal people, help them find their way, strengthen their mind, body, soul, and beyond. My classes are always full of love, life and healing. I love to help you challenge yourself physically and mentally, while honoring your own unique practice, and leave you in the most deserving savasana.
Justyne S is currently not instructing any classes.