Robyn B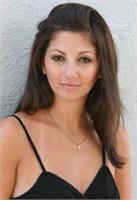 I am a Los Angeles native who has been practicing yoga regularly for years. After a serious injury due to a car accident, it was suggested of me to try hot yoga. I quickly realized that these classes not only had physical benefits, but the mental and spiritual benefits as well. Hot yoga heals me physically and emotionally.
Hot yoga is so much more than just fitness to me, It's a way of life. It allows me to connect to my mind, body, and spirt as well as get a killer work out. My practice continues to guide me to the person I am meant to be. Hot 8 yoga is my home away from home. The community and support continues to inspire me.
Robyn B instructs the following:
This class is a dynamic fusion of barre work, light weights, non-impact cardio and yoga designed for developing long and lean muscles. By activating small muscles groups this class provides cross training and aids in injury prevention and recovery. Yoga Barre is a high energy class and is excellent for anyone looking to tone legs, booty, core, and arms to upbeat music.




This breath to movement class that combines free weights with yoga and cardio to increase stamina and strength. Sculpt is a total body workout designed to sculpt and define every major muscle group. This class is high energy with upbeat music.