LJ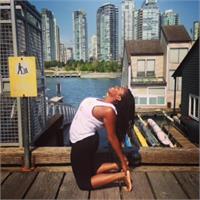 LJ began her yoga journey in 2009. She vividly remembers her first class and the doubt that she carried with her. The kindness of her teachers helped to melt that doubt away. She strives to be that same reassuring voice to her students. She completed her 200 hour teacher training in 2013 at Sunstone Yoga Academy in Dallas, TX. She followed her 200 hour training with Prenatal Yoga certification from Semperviva Yoga in Vancouver, BC. LJ encourages her students to remember that the practice of yoga is a journey. As students, we must eliminate doubt so that there is room for growth, in each posture, in each movement and in each breath.
LJ instructs the following:
This set series is an hour-long, shoulder and wrist-friendly class without chaturangas (high to low push-ups) that combines the 26 & 2 and Power Yoga styles. Hot Power Fusion includes balancing, core work, hip openers and inversions accompanied by music, encouraging mindful focus and detoxification.