Taylor M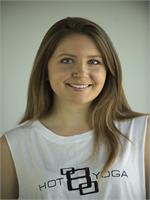 Taylor played team sports growing up, but ached to find a workout that she loved and looked forward to in her "adult" life. What began as a social obligation to attend a hot yoga sculpt class (many excuses were given to avoid a heated room) became the start of a practice that has become one of her greatest joys in life. The challenge of weights and heat combined with the foundations of yoga provides her not only with an incredible workout, but a practice that helps her experience mental healing.
Taylor wants you to feel encouraged, free, and gracious with yourself in class. She'll give you the space to workout with intensity, play a little, and have fun with the music (she believes good hip hop can get you through any set of reps). Taylor looks forward to learning and getting stronger with you!
With the encouragement of the incredible instructors Milena and Rachel, Taylor completed her Hot8 Yoga Sculpt training in Manhattan Beach (where she spends time whenever she can!).
Taylor M is currently not instructing any classes.