Jon R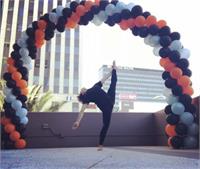 Movement is such a humbling journey. It let's us escape, cope, or challenge with the daily obstacles we face. That's why I fell in love with the practice of Yoga. Yoga started out as a way of finding a community to be apart of. Since moving to LA from New York in February 2017 it has become such a monumental part of my life! Coming from a background in dance and still presently dancing, makes having the practice of yoga such a great balance between it all. It gives you a sense of self. The unbelievable amount of growth to be gained by just stepping onto your mat is gratifying! A year later I decided I not only wanted to be apart of the community, but also instill these values into others. So I took part in a Teacher Training to learn more about the practices and hone my skills as a Yoga Instructor. Under the watchful eye of Nancy Norby and Briana DeFalco I was able to develop new skills and sharpen those already in my tool box. Gives me such joy to be apart of the Hot 8 Fam!
Jon R instructs the following:
This class is a dynamic fusion of barre work, light weights, non-impact cardio and yoga designed for developing long and lean muscles. By activating small muscles groups this class provides cross training and aids in injury prevention and recovery. Yoga Barre is a high energy class and is excellent for anyone looking to tone legs, booty, core, and arms to upbeat music.




New to meditation? This is the perfect place to start. Become more relaxed, efficient, and compassionate in just 15 minutes. This silent practice is conducted in a group setting for a more powerful experience of deepening your collective awareness.