Chelsea O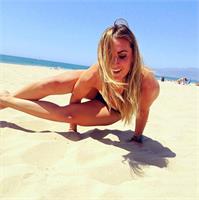 I've been practicing yoga since I was 17, when I stepped into my first class completely clueless but hoping to "heal" a lingering back injury. Like so many other people, the healing I've taken from yoga has been so much more than physical. Through the highs, lows, and general craziness of life, I always had a craving to get on my mat for the calmness and stillness it brings my mind. That craving and love of the practice led me to quit my corporate job in Boston and travel the world, studying and teaching yoga. I received my 200 hour certification in Bali studying under Louisa Sear and the Yoga Arts program, then went on to teach all over Australia. I most recently spent a month in India to reconnect with the real roots of our yoga practice and study at the Sivananda Ashram in Neyar Dam. I love yoga for the mental stillness I find through movement. As a teacher, I focus on the flow and transitions in class to create a dance in which we link postures, breathe, and attitude. I encourage students to work within their own bodies to challenge themselves but also find peace in every movement.
Chelsea O instructs the following:
A Vinyasa-style dynamic flow class, Hot Power Yoga uses breath as the primary link between attentiveness and integration of the mind and body. Hot Power Yoga is an intense practice that will flow you through strengthening postures throughout the entire class. This practice is meant to detoxify the body and burn calories through movement, breath, and heat. Designed for intermediate to advanced levels. Heated to 105-109 degrees.




Hot Yin Yoga is a restorative class designed to release tension and calm the nervous system. With the gentle support of props, students will passively stretch and energize the body's deep connective tissue. Enjoy the therapeutic benefits of deep relaxation in a heated room of 95-100 degrees.