Brittany C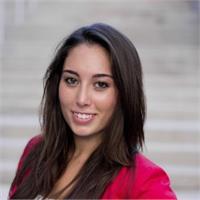 Brittany Churchill began her passion for dance and movement starting at age 3. She trained through the Royal Academy of Dance (RAD) Examination completing both children's and professional classical ballet training under the guidance of Jennifer James Church and the Academy of Dance Arts (NJ). Brittany then became a Full Fellowship Scholar at the Alvin Ailey American Dance Theatre (NYC). In 2012, Brittany earned her Bachelors in Fine Arts in Dance and a Bachelors of Science in Marketing from the University of Arizona (AZ). She is working to complete her Masters in Higher Education in May 2018.
Since moving to LA, Brittany has deepened her Yoga practice beyond the dance training. Inspired by her fellow dancer and friend, Ava Moreno, Brittany dove head first into Yoga Barre and completely fell in love with Hot Yoga Barre and the Hot 8 Community. Brittany completed her 50Hr Teacher Training under Nancy Norby and mentorship of Briana DeFalco. Brittany's most recent yoga adventure was the completion of 50Hr Vibe training under Omar Lopez. Brittany is excited to continue on this yoga journey, dive deeper into practice, explore connection and discover so much more!
Brittany is so thankful to find the beautiful Hot 8 community she was seeking. Hot 8 has allowed her to build connections outside of her professional life and feel rooted in a new community after moving to LA. Brittany hopes to share this sense of community in every class and motivate others to expand their practice through class, workshops and teacher training. She is truly honored to have learned from such passionate and dedicated yogis and hopes to carry on their inspiration into class. Her classes combine her dance background, her love of music and fun!
Brittany C instructs the following:
This class is a dynamic fusion of barre work, light weights, non-impact cardio and yoga designed for developing long and lean muscles. By activating small muscles groups this class provides cross training and aids in injury prevention and recovery. Yoga Barre is a high energy class and is excellent for anyone looking to tone legs, booty, core, and arms to upbeat music.




Rhythmic-based power class in which sequences are executed to various tempos and intensities. Each class is accompanied with its own carefully crafted playlist and theme. At its peak, the sequence is linked to the beat of the music challenging balance, core strength, endurance and stamina. Candles, dim lights and soulful sounds set the vibe for the class. In this challenging tempo-based class, expect less alignment cues and some fast paced movement to music to help remain grounded in your experience. Class created by Omar Lopez.