Nikki M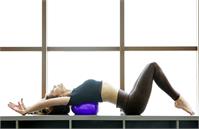 Nikki comes from a dance and performance background and is thrilled to be sharing her joy of physical fitness, yoga, and dance through teaching yoga barre. When Nikki is not in yoga barre class, she enjoys flying planes, tango dancing, and training at Freddie Roach's Wild Card Boxing Club. She also works as a psychotherapist in Santa Monica.
Nikki M instructs the following:
Hot Yoga Barre is a dynamic fusion of yoga, body sculpting, barre work, and non-impact cardio designed for developing long and lean muscles. This hour-long class is packed with toning exercise that sculpt the buttocks, abdominals, thighs, and arms. The class is filled with strengthening postures at the barre working legs and abdominals fused with yoga postures on the mat to release and lengthen from the barre work. It will also improve your posture and form a sculpted physique. Hot Yoga Barre is an intermediate level class practice in a room heated to 104-109 degrees.