Nikki M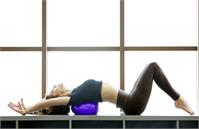 Nikki comes from a dance and performance background and is thrilled to be sharing her joy of physical fitness, yoga, and dance through teaching yoga barre. When Nikki is not in yoga barre class, she enjoys flying planes, tango dancing, and training at Freddie Roach's Wild Card Boxing Club. She also works as a psychotherapist in Santa Monica.
Nikki M instructs the following:
This class is a dynamic fusion of barre work, light weights, non-impact cardio and yoga designed for developing long and lean muscles. By activating small muscles groups this class provides cross training and aids in injury prevention and recovery. Yoga Barre is a high energy class and is excellent for anyone looking to tone legs, booty, core, and arms to upbeat music.




This breath to movement class that combines free weights with yoga and cardio to increase stamina and strength. Sculpt is a total body workout designed to sculpt and define every major muscle group. This class is high energy with upbeat music.