Candice K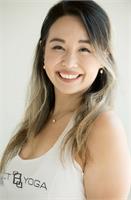 Born and raised in LA, I re-discovered yoga after graduating from college in San Diego and returning home to begin working full-time. After years of being on-and-off with my fitness routine, I decided it was time to finally commit to a practice that would inspire and motivate me to live a healthier and more active lifestyle. Remembering that yoga had always offered me a space to not only improve my physical well-being, but also to re-center & truly clear my mind - it was only natural that I gravitated towards it as my practice of choice.
I initially came to Hot 8 to take advantage of the free week of classes to motivate myself to get back into yoga, while giving myself the added challenge of practicing in the heat; what I found was something much more special. Hot 8 immediately drew me in with the beautiful & authentic energy that each instructor brought to his or her class, and the sense of community that I found myself walking into every time I stepped onto my mat. Having been a space of growth and transformation for me during a pivotal time in my life, Hot 8 has continued to be my home away from home.
The more I committed to my practice, the more invested and dedicated I became to the idea of moving with intention and integrity. I found myself wanting to deepen my practice further and learn how to guide others to work more mindfully on & off of their mats. Feeling a connection with Yoga Barre in particular, I completed my Yoga Barre certification in 2017 under the incredible guidance and mentorship of Nancy Norby and Briana DeFalco. I am so honored and excited to join the Hot 8 family and hold space with the community in a practice that I love so much. My goal is to provide a space that benefits everyone's intentions: whether that intention is to have a great workout, mental detox, or anything in between; and to encourage the practice of setting an intention for yourself to carry off the mat as well. Look forward to seeing you at the Barre!
Candice K instructs the following:
This class is a dynamic fusion of barre work, light weights, non-impact cardio and yoga designed for developing long and lean muscles. By activating small muscles groups this class provides cross training and aids in injury prevention and recovery. Yoga Barre is a high energy class and is excellent for anyone looking to tone legs, booty, core, and arms to upbeat music.




Rhythmic-based power class in which sequences are executed to various tempos and intensities. Each class is accompanied with its own carefully crafted playlist and theme. At its peak, the sequence is linked to the beat of the music challenging balance, core strength, endurance and stamina. Candles, dim lights and soulful sounds set the vibe for the class. In this challenging tempo-based class, expect less alignment cues and some fast paced movement to music to help remain grounded in your experience. Class created by Omar Lopez.