Amber F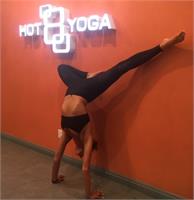 Amber has always been actively involved in various sports throughout her entire life. She is a fitness enthusiast at heart. Since moving to California in 2013, she immediately became hooked on Hot 8 Yoga's friendly community and barre class. Three years later, Amber was presented the opportunity to participate in Nancy Norby's barre training and she could not pass it up! Amber is a Florida Atlantic University graduate with a double major, Management and Marketing. When Amber is not in the yoga studio, she is the West Coast District Manager for a fashion icon brand. In her free time, Amber enjoys soaking up the Southern California sunshine at the beach, hiking, biking, running, and enjoying other outdoor activities. Amber's yoga goal is to lead her students through a 60 minute high energy, yet challenging, class that will be gratifying to the student and empower both the body and mind. She believes anyone can accomplish anything they put their mind to through hard work, dedication and passion.
Amber F instructs the following:
Hot Yoga Barre is a dynamic fusion of yoga, body sculpting, barre work, and non-impact cardio designed for developing long and lean muscles. This hour-long class is packed with toning exercise that sculpt the buttocks, abdominals, thighs, and arms. The class is filled with strengthening postures at the barre working legs and abdominals fused with yoga postures on the mat to release and lengthen from the barre work. It will also improve your posture and form a sculpted physique. Hot Yoga Barre is an intermediate level class practice in a room heated to 104-109 degrees.