Gabriel Y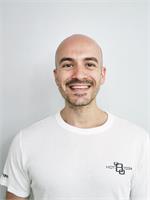 Gabriel and his yoga mat have been inseparable since he was just a teenager. His love for yoga, and general desire to help people drew him towards teaching yoga. He has trained with yoga masters along the banks of the Ganges river in the foothills of the Himalayas. Gabriel received his Yoga Alliance RYT 500 certification at Shiva Yoga Peeth in Rishikesh, India. He has conducted yoga classes throughout North America, Asia, and Europe in a variety of styles to practitioners of all levels.
He instructs his students through physical and verbal cues, focusing on developing proper alignment and cultivating both physical and mental awareness, while uniting breath and movement. Gabriel believes by balancing physical strength with flexibility, and proper breathing, the body and mind become unified.
Gabriel Y instructs the following:
Hot Yin Yoga is a restorative class designed to release tension and calm the nervous system. With the gentle support of props, students will passively stretch and energize the body's deep connective tissue. Enjoy the therapeutic benefits of deep relaxation in a heated room of 95-100 degrees.




A Vinyasa-style dynamic flow class, Hot Power Yoga uses breath as the primary link between attentiveness and integration of the mind and body. Hot Power Yoga is an intense practice that will flow you through strengthening postures throughout the entire class. This practice is meant to detoxify the body and burn calories through movement, breath, and heat. Designed for intermediate to advanced levels. Heated to 105-109 degrees.