Siobhan C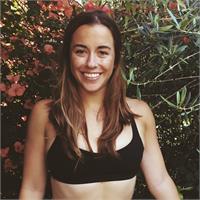 Born and raised in Washington DC, Siobhan was a competitive athlete and NCAA collegiate swimmer. After graduating college, she experimented with a variety of new workouts and in the Spring of 2015, Siobhan found peace and joy in the yoga studio. She believed that the components of high energy, spirituality, and community that yoga presented were what she was looking for. Like swimming, she found versatility, comfort, and her breathe in yoga sculpt. She completed Yoga Sculpt training with Extensions certification at Corepower Yoga in 2016. She wants her students to have the same experience she did when she first walked into the room, and with a wide variety of music and upbeat energy, she wants you to not only feel comfortable but also find your edge. She can't wait to connect and meet you!
Siobhan C instructs the following:
This high-intensity, vinyasa-style flow class incorporates small hand weights and cardio to burn fat and build lean muscle mass. This power-up session builds strength, stamina, and flexibility. Free weights serve as your own personal adjuster as you move through Sun Salutations in a vinyasa-style class, enabling extra length and depth in each pose. Designed for intermediate levels in a room heated to 100-105 degrees.