Amanda P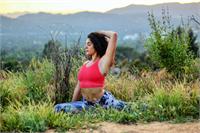 With a 10 year background in gymnastics, Amanda was introduced to yoga in high school and immediately loved the physical aspect of the practice. It wasn't until she moved away for college when she started practicing Ashtanga & Vinyasa regularly. After two years of continuous dedication, she became hooked on not just the physical aspect of yoga but the mind, body and spiritual connection.
In late 2014 she began her journey to becoming a teacher. When she completed her RYT 200, she craved to learn more and to dive deeper into yoga philosophy. She graduated from Southwest Institute of Healing Arts in Tempe, Arizona where she finished the 800 hour Holistic Health Practitioner program while completing her RYT 500, Holistic Nutrition Specialist and Reiki Master Teacher. Amanda now specializes in Vinyasa, Yin, Prenatal, Children's, PTSD, Aromatherapy and Crystal Bowl Sound Healing.
Amanda loves incorporating funky, dynamic flows and fun tunes into her sequencing and don't be surprised if you catch her dancing and singing to the music!
Amanda P instructs the following:
A Vinyasa-style dynamic flow class, Hot Power Yoga uses breath as the primary link between attentiveness and integration of the mind and body. Hot Power Yoga is an intense practice that will flow you through strengthening postures throughout the entire class. This practice is meant to detoxify the body and burn calories through movement, breath, and heat. Designed for intermediate to advanced levels. Heated to 105-109 degrees.




Foundations 4 Chakra Intro is the introduction that the chakras are gateways between mind, body and consciousness where prana(life-force) moves to bring an individual to Mukti(liberation).

This 4 week series sets the foundation for a successful yoga practice. It can be attended out of order and is designed for those who are new to yoga or have practiced for some time and are looking for a deeper understanding. You will learn the foundations of alignment, modifications, breath, yogic philosophy and touch upon meditation. This program is accessible to all in a fun supportive environment. Come learn about the 8 Limbs of Yoga and take your practice to the next level!




"Bathe yourself with the healing sounds of quartz crystal bowls tuned to each of the 7 chakras (energy centers) in your body. The sound vibrations promote healing and balance for deep meditation. In this event you will be guided through a few minutes of gentle poses to warm up your system, followed by a long and supported savasana sound experience. Please arrive 10 minutes early to sign in and set up your space. Feel free to bring a pillow or blanket that comforts you."