Christina G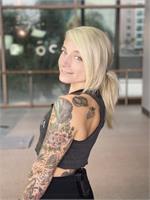 Christina was born and raised in Montgomery, New York. She grew up on a small farm and led a very active lifestyle. Christina started running track and joined the swim team in middle school. Running became meditation for her and she was completely addicted all throughout college. When her knees and ankles became too injured to continue running, Christina turned to yoga for exercise. In no time, yoga became much more than just a work out. After less than a year of practicing, Christina took her first 200 hour yoga teacher training at NP Rock Yoga in New Paltz, NY. This life changing experience led her across the country to deepen her yoga practice in Los Angeles. She started practicing at Hot 8 Yoga daily and completed her yoga sculpt teacher training in March of 2017. Christina's goal is to spread yoga, mindfulness, and fitness to her students and she teaches a fun, energetic class.
Christina G instructs the following:
This high-intensity, vinyasa-style flow class incorporates small hand weights and cardio to burn fat and build lean muscle mass. This power-up session builds strength, stamina, and flexibility. Free weights serve as your own personal adjuster as you move through Sun Salutations in a vinyasa-style class, enabling extra length and depth in each pose. Designed for intermediate levels in a room heated to 100-105 degrees.




Hot Yoga Barre is a dynamic fusion of yoga, body sculpting, barre work, and non-impact cardio designed for developing long and lean muscles. This hour-long class is packed with toning exercise that sculpt the buttocks, abdominals, thighs, and arms. The class is filled with strengthening postures at the barre working legs and abdominals fused with yoga postures on the mat to release and lengthen from the barre work. It will also improve your posture and form a sculpted physique. Hot Yoga Barre is an intermediate level class practice in a room heated to 104-109 degrees.