Christina G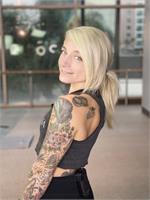 Christina was born and raised in Montgomery, New York. She grew up on a small farm and led a very active lifestyle. Christina started running track and joined the swim team in middle school. Running became meditation for her and she was completely addicted all throughout college. When her knees and ankles became too injured to continue running, Christina turned to yoga for exercise. In no time, yoga became much more than just a work out. After less than a year of practicing, Christina took her first 200 hour yoga teacher training at NP Rock Yoga in New Paltz, NY. This life changing experience led her across the country to deepen her yoga practice in Los Angeles. She started practicing at Hot 8 Yoga daily and completed her yoga sculpt teacher training in March of 2017. Christina's goal is to spread yoga, mindfulness, and fitness to her students and she teaches a fun, energetic class.
Christina G instructs the following:
This class is a dynamic fusion of barre work, light weights, non-impact cardio and yoga designed for developing long and lean muscles. By activating small muscles groups this class provides cross training and aids in injury prevention and recovery. Yoga Barre is a high energy class and is excellent for anyone looking to tone legs, booty, core, and arms to upbeat music.




New to meditation? This is the perfect place to start. Become more relaxed, efficient, and compassionate in just 15 minutes. This silent practice is conducted in a group setting for a more powerful experience of deepening your collective awareness.




This breath to movement class that combines free weights with yoga and cardio to increase stamina and strength. Sculpt is a total body workout designed to sculpt and define every major muscle group. This class is high energy with upbeat music.




This foundational class connects breath to movement (vinyasa) and focuses on proper alignment to set students up for success in all styles offered at Hot 8 Yoga. The temperature is set at a lower level to help acclimate students to the heat. Power 1 is an excellent full body strengthening class for both new and experienced students to learn any necessary modifications to improve their practice.