Erica W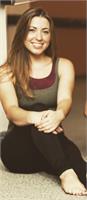 Hello all! My name is Erica, I am a new yoga teacher at Hot 8 yoga and my mission is to impact others with my passion for yoga and mind body connection. My mission is to create a positive, and fun up beat environment that will keep my students feeling inspired and motivated while still getting a great workout! Can't wait to spread positive and loving vibes to each and every student I meet!
Erica W instructs the following:
This high-intensity, vinyasa-style flow class incorporates small hand weights and cardio to burn fat and build lean muscle mass. This power-up session builds strength, stamina, and flexibility. Free weights serve as your own personal adjuster as you move through Sun Salutations in a vinyasa-style class, enabling extra length and depth in each pose. Designed for intermediate levels in a room heated to 100-105 degrees.