Erica W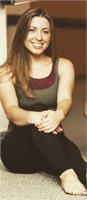 Hello all! My name is Erica, I am a new yoga teacher at Hot 8 yoga and my mission is to impact others with my passion for yoga and mind body connection. My mission is to create a positive, and fun up beat environment that will keep my students feeling inspired and motivated while still getting a great workout! Can't wait to spread positive and loving vibes to each and every student I meet!
Erica W instructs the following:
This breath to movement class that combines free weights with yoga and cardio to increase stamina and strength. Sculpt is a total body workout designed to sculpt and define every major muscle group. This class is high energy with upbeat music.




This foundational class connects breath to movement (vinyasa) and focuses on proper alignment to set students up for success in all styles offered at Hot 8 Yoga. The temperature is set at a lower level to help acclimate students to the heat. Power 1 is an excellent full body strengthening class for both new and experienced students to learn any necessary modifications to improve their practice.




Yoga Barre $8 Community Classes taught by our recent graduates!

A dynamic fusion of yoga, body sculpting, barre work, and non-impact cardio that will get you long and lean. Yoga Barre is inspired by the revolutionary exercise routine developed in London by the world-famous modern dancer, Lotte Berk and her orthopedist. This class is a cardiovascular program of isometric exercises and orthopedic stretches designed to improve your posture and form a sculpted physique. Intermediate level class; temp 104-109

**Must purchase the $8 Community class at the studio. It is not available online.


All who have 10 class packages will need to purchase the $8 class separately from your current package.

Those with memberships and yearly contracts, this class will be deducted from your current membership. It is included in the membership.