Erica W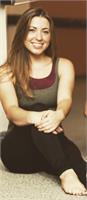 Erica Woolsey was born In Chicago Illinois, and moved to Los Angeles at age 18 to pursue a career in acting. After struggling with years of anxiety she stepped into her first yoga studio in 2014 and has been practicing ever since. Yoga has changed her life, body, and mindset in ways she never thought possible. A passion for acting developed into a passion for teaching yoga after she received her 200 hour yoga certification in vinyasa flow when she was 21. Erica started working at Hot8yoga a year later and went on to teach sculpt, power 1, and Barre. She has a passion for changing lives through yoga and connecting with others. She is excited to meet new faces while providing a safe and fun environment for her students in every class!
Erica W instructs the following:
This breath to movement class that combines free weights with yoga and cardio to increase stamina and strength. Sculpt is a total body workout designed to sculpt and define every major muscle group. This class is high energy with upbeat music.




This class is a dynamic fusion of barre work, light weights, non-impact cardio and yoga designed for developing long and lean muscles. By activating small muscles groups this class provides cross training and aids in injury prevention and recovery. Yoga Barre is a high energy class and is excellent for anyone looking to tone legs, booty, core, and arms to upbeat music.