Rebecca T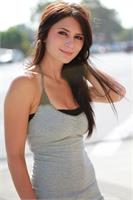 Rebecca began her yoga journey in search of relieving stress after taking a huge corporate gig in Downtown Los Angeles, she was hooked immediately after taking her first Bikram class. Through her journey of discovering her higher self on and off of her mat, she has been able to cultivate a greater awareness, a deeper sense of her true, authentic self.
Learning to be kind, compassionate, and to live a life ON PURPOSE.
Rebecca is a certified personal trainer(NASM), A Hot Power Fusion teacher (CPY 200 hour), 26&2 teacher (B.Free 500 hour) and currently in Kundalini teacher training at Yoga West(220hr). Rebecca has since left her corporate world behind and focuses her time as a singer-songwriter, actress but most importantly a healer and teacher of yoga and meditation. Rebecca's mission is to create and hold the space to allow others to WAKE up, to connect to their most authentic and creative self and to BE ON PURPOSE.
Be the best you, you can be… Love yourself.
Rebecca T is currently not instructing any classes.