Kat G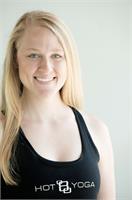 Kat, a Michigan native, first stepped onto the mat at Yoga for Performers class in college. She found yoga to be endlessly therapeutic for the mind, body and spirit. As a performing artist, yoga was particularly helpful in learning to control the breath and to ease the mind. Kat has always been passionate about connecting her two loves of yoga and music, so when she had the opportunity to join the Hot 8 community, she immediately jumped on board. She brings comfort and warmth to those around her, and she is excited to encourage others to find peace on and off the mat just as she has!
Kat G instructs the following:
This Vinyasa-style flow class designed for beginners features a set sequence. Pairing breath with movement, Hot Power 1 is meant to help integrate the mind/body connection. It is a whole body strengthening practice that includes Sun Salutations, standing postures, simple arm balances, core strengthening, backbends, hip-openers, basic inversions, and restorative postures. Hot Power 1 is an excellent class for both new and old students to learn proper yoga alignment and any necessary modifications. Heated to 100-105 degrees.