Camille K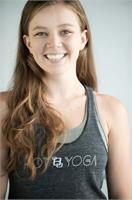 Camille found yoga through her passion for dance. Growing up immersed in ballet and modern, she attained her BFA in ballet from the University of North Carolina School of the Arts where she also discovered a strong practice in both Pilates and Yoga. After two decades of dance training she moved on to dance professionally with companies in Santa Barbara and Santa Monica. Camille moved to Pasadena in 2016 where she found Hot 8 Yoga and established a strong and steady practice. Immersing herself fully into the yoga world changed her outlook on life and brought about heightened passion for teaching. Obtaining her 200hr YTT under the direction of Sarah Helt and Scott Brandon she delved more fully into the world of yoga with an open heart and mind. Fusing her love of dance and yoga together, she strives to create a safe and welcoming space allowing students to challenge themselves both physically and mentally. As a teacher and mentor of dance for over eight years, this new found love and deep exploration of yoga informs and heightens her instruction in both arenas, allowing students to hone their practice and find greater meaning and a greater sense of satisfaction through this demanding and beautiful work.
Camille K instructs the following:
This intermediate vinyasa-style class guides students through more advanced postures and creative sequencing. Power links breath to movement and may include arm-balances, inversions and twists to stretch and strengthen the body. Accompanied by music.




This class is a dynamic fusion of barre work, light weights, non-impact cardio and yoga designed for developing long and lean muscles. By activating small muscles groups this class provides cross training and aids in injury prevention and recovery. Yoga Barre is a high energy class and is excellent for anyone looking to tone legs, booty, core, and arms to upbeat music.