Camille K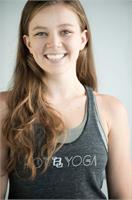 Camille found yoga through her passion for dance. Growing up immersed in ballet and modern, she attained her BFA in ballet from the University of North Carolina School of the Arts where she also discovered a strong practice in both Pilates and Yoga. After two decades of dance training she moved on to dance professionally with companies in Santa Barbara and Santa Monica. Camille moved to Pasadena in 2016 where she found Hot 8 Yoga and established a strong and steady practice. Immersing herself fully into the yoga world changed her outlook on life and brought about heightened passion for teaching. Obtaining her 200hr YTT under the direction of Sarah Helt and Scott Brandon she delved more fully into the world of yoga with an open heart and mind. Fusing her love of dance and yoga together, she strives to create a safe and welcoming space allowing students to challenge themselves both physically and mentally. As a teacher and mentor of dance for over eight years, this new found love and deep exploration of yoga informs and heightens her instruction in both arenas, allowing students to hone their practice and find greater meaning and a greater sense of satisfaction through this demanding and beautiful work.
Camille K instructs the following:
A Vinyasa-style dynamic flow class, Hot Power Yoga uses breath as the primary link between attentiveness and integration of the mind and body. Hot Power Yoga is an intense practice that will flow you through strengthening postures throughout the entire class. This practice is meant to detoxify the body and burn calories through movement, breath, and heat. Designed for intermediate to advanced levels. Heated to 105-109 degrees.




This Vinyasa-style flow class designed for beginners features a set sequence. Pairing breath with movement, Hot Power 1 is meant to help integrate the mind/body connection. It is a whole body strengthening practice that includes Sun Salutations, standing postures, simple arm balances, core strengthening, backbends, hip-openers, basic inversions, and restorative postures. Hot Power 1 is an excellent class for both new and old students to learn proper yoga alignment and any necessary modifications. Heated to 100-105 degrees.




INVIGOR8 MEDITATION will ease you into your day with this energizing 15 minute practice. Dhyana (Meditation) is the 7th limb or step of yoga, from the 8 Limbs of Yoga, where Hot 8 Yoga gets its name. Meditation helps deepen your awareness and helps you start assisting in positive thinking patterns so that you leave class refreshed for the rest of your day. All levels welcome. Low heat. $8 per class, included in all memberships.