Camille K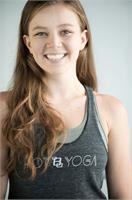 Camille found yoga through her passion for dance. Growing up immersed in ballet and modern, she attained her BFA in ballet from the University of North Carolina School of the Arts where she also discovered a strong practice in both Pilates and Yoga. After two decades of dance training she moved on to dance professionally with companies in Santa Barbara and Santa Monica. Camille moved to Pasadena in 2016 where she found Hot 8 Yoga and established a strong and steady practice. Immersing herself fully into the yoga world changed her outlook on life and brought about heightened passion for teaching. Obtaining her 200hr YTT under the direction of Sarah Helt and Scott Brandon she delved more fully into the world of yoga with an open heart and mind. Fusing her love of dance and yoga together, she strives to create a safe and welcoming space allowing students to challenge themselves both physically and mentally. As a teacher and mentor of dance for over eight years, this new found love and deep exploration of yoga informs and heightens her instruction in both arenas, allowing students to hone their practice and find greater meaning and a greater sense of satisfaction through this demanding and beautiful work.
Camille K instructs the following:
Power 1 Yoga $8 Community class taught by recent graduates!

A Vinyasa-style flow class designed for beginners to learn proper alignment and breath. It is a whole body strengthening practice that includes Sun Salutations, standing postures, simple arm balances, core strengthening, back bends, hip openers, and basic inversions. This class is excellent for those new to yoga as well as those with injuries to learn modifications; temp 100-105

**Must purchase the $8 Community class at the studio. It is not available online.
All who have a 10 class package will need to purchase the $8 class separately from your current package. Those with memberships and yearly contracts, this class will be deducted from your current membership.