Jolie S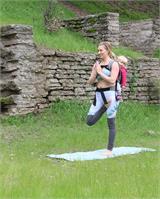 My first yoga class was over a decade ago during my college days. It was a Bikram class and I was instantly hooked. After starting a family and being a dedicated practitioner for 13 years, I decided to become a yoga teacher. I completed my Teacher Training with Hot 8 Yoga and my Prenatal/Postnatal Yoga certification with Ma Yoga.
When I was a newer practitioner, yoga, for me, was about the postures. It took many frustrating years to understand that yoga is more than just deep backbends and holding my Warrior 2 forever. I was missing the spiritual aspect. Finally, I began to weave my mind, heart, and breath together on the mat. Suddenly my practice and life changed because I found compassion, peace, and patience within myself.
Each day is new and different when I come to the mat, but I always try to instill the same principles. As a teacher, I hope to weave in yoga philosophy, meditation, and help students realize there is more to yoga than just the postures.
Jolie S instructs the following:
Power 1 Yoga $8 Community class taught by recent graduates!

A Vinyasa-style flow class designed for beginners to learn proper alignment and breath. It is a whole body strengthening practice that includes Sun Salutations, standing postures, simple arm balances, core strengthening, back bends, hip openers, and basic inversions. This class is excellent for those new to yoga as well as those with injuries to learn modifications; temp 100-105

**Must purchase the $8 Community class at the studio. It is not available online.
All who have a 10 class package will need to purchase the $8 class separately from your current package. Those with memberships and yearly contracts, this class will be deducted from your current membership.